| | |
| --- | --- |
| Dates: | 29 October 2021 to 17 November 2021 |
| Times: | 11am - 5pm daily |
| Email: | dawn.m.cole@btinternet.com |
Dawn Cole: Making Arrangements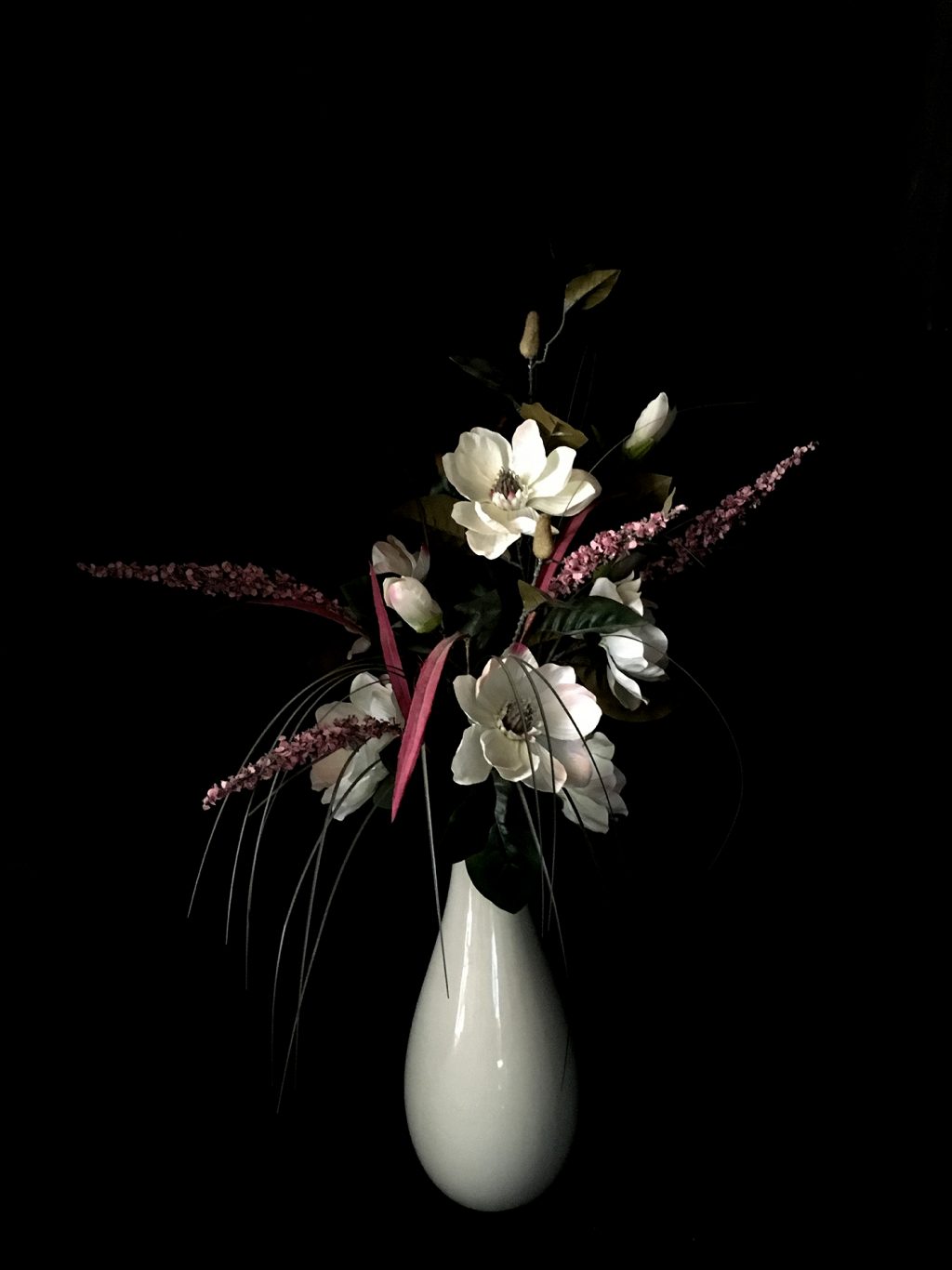 Making Arrangements is a project that artist Dawn Cole has been working on since clearing her mother's home after she moved in to a care home in 2018. Dawn uses her Mother's flower arrangements, which now reside in Dawn's studio and her ornaments as a way to explore dismantling a home and the isolation experienced last year when visits to Care Homes were stopped due to the Covid-19 Pandemic.
For this Pie Factory exhibition Dawn will be showing works from this project including digital and instant photographs, Cyanotype print and solar plate etching.
Dawn Cole works from her studio in Birchington-on-Sea. Her practice is focused on working from archives; public, personal and self generated. Dawn exhibits widely and has participated in exhibitions in Japan, France, Sweden, USA, Portugal and throughout the UK. Her work is held in the V&A permanent print collection, London, Scarborough Museum Print Collection, Canterbury Cathedral archives, University of Kent Archives and Special Collections.
At the International Print Biennale 2011 Dawn was awarded the V&A Print Prize and in January 2013 was shortlisted and was a finalist for the prestigious Arts Foundation Fellowship Award: Printmaking
Website: dawncole.co.uk
Instagram: @dawncole1
Graham Ward: New Works 20/21
Graham Ward returns to the Pie Factory with new works from 2020 and 2021 which continue to explore themes of pilgrimage and journey-making – and reflect his personal realm of matter and of spirit.
The atmospheric setting of Pie Factory's Brick Space will  contain a series of recent paintings which express his  continuing fascination with the ancient pilgrim roads to Santiago, a series of journeys that he has repeatedly undertaken since 2003. The centrepiece of the exhibition will be entitled 'The Cortege of the Magi', a large-scale work directly inspired by a fragment of 12th-century sculpture currently housed in the museum of the cathedral in Santiago de Compostela. The enigma of it's appearance has been the inspiration for a number of paintings that Graham has undertaken over the years which feature three horses as the focus of this  subject-matter; that which continues to be an inspiration and a pivotal theme of these 'pilgrim' works. This new piece is likely to be the largest painting that Graham has attempted in his chosen medium, and hopes to adequately reflect the gravity of the sculpture that has directly inspired it. Working in acrylic, with overlays of egg tempera and often embellished with gold leaf,  Graham Ward continues to explore his  themes of Child Kings and Holy Fools, as well as his familiar painted bestiaries of birds and animal subjects.
The exhibition will also feature new works undertaken in 2020 and 2021, and will be shown in the third space of the Pie Factory, and will be seen  in tandem with 'Making Arrangements'- a suite of new works by Dawn Cole.
Instagram: @grahamwardstudio