Hanging your work
Many exhibitors leave at least one day to hang their work at the start of the exhibition, and often a day to take work down. If you are working in a collaborative group, you may not need as much time.  Either way, the keys will be ready to collect from 8am on the first day of hire, and you must be completely out of the building by 4pm on the last day of hire (as this is when our cleaners come in). If this is really difficult for you, there may be a chance we can delay cleaning (for instance if we know the next hirer isn't in early the next morning) so please get in touch and we can discuss.
There are parking spaces outside the gallery for when you drop off your work, but you will need to pay for this. We are aware of some free parking an 8 min walk from the gallery, where you can leave your car for the day, please get in touch for directions.
We operate a strict no nails policy and ask that absolutely no holes are made in the plaster or brick work.
There is a hanging system installed throughout the 4 galleries, which enables you to hang your work with great flexibility. Cylinder anchors hang from a 'J Rail System' and your work can be attached to hooks on cords, at varying heights.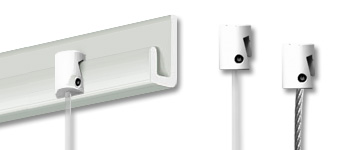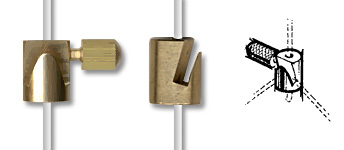 The hooks are best attached to D rings fitted to your work, we recommend attaching the D rings to the top of your work to avoid the work hanging forwards. If your work is not mounted onto a hard frame, we recommend using a board with attached D rings, and then attached your work to the board using adhesive. You can also use bulldog clips or fishing line for lighter work. We are more than happy to help advise you on hanging your work if you are unsure, and can meet you at the gallery to show you the system ahead of time.
The maximum weight on each anchor and cord should be no more than 8kg or 17lbs. We also provide a set of heavy duty metal cords for heavy work, please advise if you require these.
We supply 150 anchors, cords and hooks at check-in. We ask that you don't knot or tie the cords, or use anything sticky on them. We want these to be in good condition for future exhibitors, therefore if there are any missing or damaged parts of the hanging system we may make deductions from your deposit.
Please be careful when sticking anything on the walls. We ask that you don't use bluetac as it leaves marks, or sellotape which can remove paint when removed. In the past exhibitors have used good quality sticky labels or 'magictape' on the wall without leaving a trace, and this is fine. If you do take off some paint or leave a mark, we would rather you point it out so we can fix it!
Exhibitor Information
Access
You will be provided with keys which are yours for the duration of hire.
Burglar alarm
We have a full alarm system for the gallery, which is operated using a fob on the keys. This will be activated if anyone enters the gallery without turning off the system, or the doors are not fully secured and blow open (if the alarm sounds due to negligence of the hirer, we keep part of the deposit to pay the fees incurred. Further details will be provided in the check-in information sheet.)
Cleaning
The gallery is fully cleaned between exhibitions and we ask that you keep the space clean and tidy throughout your hire. The toilets are cleaned every Wednesday evening.
Deposit
We ask that you pay a £100 deposit 7 days prior to your hire, via electronic bank transfer.
Electrical sockets
13amp sockets are provided throughout the building. There is a diagram of their location at the end of this document.
Fire safety
We have a full fire safety system, with sprinklers and activation points throughout the gallery. There is an additional fire escape at the back of gallery 3. We also have two fire extinguishers.
Insurance
It is a condition of hire that exhibitors have Public Liability Insurance in place for their show. Due to the varying nature of exhibitions in the gallery, it is not possible for us to hold contents insurance which covers all eventualities. Therefore, if you are concerned about work you will be displaying you may want to investigate contents insurance.
Kitchen
In the centre of the gallery is a small lockable storage room. This room stores the tables and chairs for the gallery, and can be used by exhibitors to store their personal belongings. It also contains a large sink which can be used for cleaning equipment.
Lighting
Track lighting is installed throughout the main galleries, in addition to overhead lights. The track lighting can be repositioned to focus on work and can be switched on or off at each individual light. More information on how to use this will be provided in the check-in information. In gallery 4 we also have pontoon/festoon lighting, which provides a different feel from the other three galleries.
Mess
We are happy for messy live performances or art creation to take place in the gallery but would like to discuss this fully with exhibitors prior to hire. Suitable sheeting will need to cover the ground as it's concrete and not easy to wipe clean. We may also ask for additional deposit to cover all sticky situations, but will discuss this in full with you before hire.
Opening Private View events
We are happy for you to host an opening private show for your exhibition. Exhibitors need to provide their own equipment and catering supplies for these, but we do have a stock of chairs for you to use. You can serve alcohol as long as you're not charging for it. We also ask that you don't use any hot plates or gas stoves for cooking, being mindful of fire safety.
Plinths
We have eight plinths available to use for your exhibition. Please get in touch for exact dimensions. The Turner Gallery has also kindly offered to lend any plinths they are not using, please get in touch for their contact details to find out more.
Projector
The gallery has a projector you can use for your exhibition, free of charge. It is mounted to the wall in gallery 4 and cannot be moved. We advise using the attached media player, using a usb or memory card for playback, rather than plugging in a laptop directly (this keeps the equipment out of arms reach, to avoid theft). Use of the projector comes with a separate hire agreement, which states that any damages must be covered by the exhibitor, so please get in touch to let us know you intend to use it.
Ladders
We have two step ladders that are available for your use.
Tables
We have a variety of tables you can use for your exhibition. We have a large round table (roughly 150cm in diameter) that we're unable to put in the storeroom, so it stays out in the gallery. We also have two folding tables – 183cm x 69cm, one wallpaper style folding table 112cm x 100cm and an Ikea table with removable legs (x1) 120cm x 75cm. If you intend to display work on these tables it would be worth bringing a table cloth.
Theft
Sadly, we have had instances of theft of personal possessions from the gallery. Thankfully we have not had any reports of artwork being taken, as the theft is mainly unattended mobile phones, tablets and projectors. We therefore suggest you keep your belongings stored in the kitchen, and keep the room locked.
Wi-Fi Access
We provide access to the internet for your hire. The router is located in the front gallery and you will be provided with access information in the check-in info sheet.
In preparation for your exhibition
Following your booking you will receive:
an invoice detailing monies paid and/or payment schedule
a hire agreement via the website Eversign, which enables you to sign and return electronically, without needing to print and post
a form detailing what information we need for your website listing
Before the exhibition you will need to organize:
Public Liability Insurance – Pie Factory has insurance to cover the building only.
A risk assessment – we carry out our own risk assessment for the premises, but each exhibitor needs to consider how their show could pose a risk. If you're just hanging work on the wall, this will be straight forward, whereas more care needs to be taken assessing the risk of work on plinths or electrical cables (which should be taped down) or if you plan to have a live performance.
Please provide us with:
Information for your listing on our website, along with at least one image (we will send a document detailing exactly what info we need)
Your contact number
Promotion of your event
We promote all exhibitions on our website, social media accounts and by emailed newsletter
If you would like us to send a press release to our local press contacts, please provide this a month before the event. In order to attract journalists to feature your exhibition, this should be written in a slightly different way to the website listing, more information is included in our guide to writing a press release.
We also recommend printing some flyers and distributing these locally. As venues change rapidly we can't really provide a list of places for this, the best way to distribute them is to have an afternoon walk around the town and pop into as many places as you can. The Turner for instance are happy to display local flyers on their information desk.
There is an external poster display unit on the left of the front doors, which we recommend using for your exhibition. This holds A3 posters. We are happy to print something for this display case for your exhibition if you provide it a week before your hire, but we do only have a regular A4 printer.
If you require further assistance please feel free to drop us an email to hello@piefactorymargate.co.uk