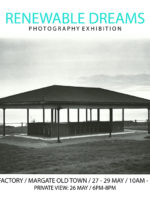 From 27 May 2017 to 29 May 2017
10am to 5pm Private View: 26 May 6 to 8pm Renewable Dreams presents the work of the Year One Photography Students at Canterbury Christ Church University. This exhibition explores the creative practice and critical engagement within the programme and showcases the best of the Year One Photography projects.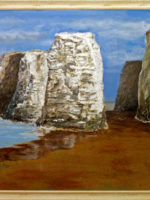 From 3 June 2017 to 6 June 2017
11am to 4.30pm For more information about this exhibition please call 07879774211 Big canvases of the sea and cliffs, smaller wire pictures, town studies on little postcards and a full wall video installation.
From 9 June 2017 to 14 June 2017
Open 10.30am to 4.30pm Friday to Tuesday 10.30am to 2.00pm Wednesday with evening performances at 7.00pm from Performing Arts and Music students on Friday 9 and Saturday 10 June For inquiries about this exhibition, please call 07870 868483 This exhibition will feature a wide range of paintings, prints, photography, film and media work, with something […]